Liza Diamond

Liza is the daugther of a unicorn and you see her mother in the episode L.C. Lucy
Her first episode in Monster High dreams is (The Mystery in Scaris)
You see in the episode The Evil Genie that she a evil genie in her past is.
















Liza's Sister: Mindy Diamond
Liza's Profile
Edit
Liza's Diamond Profile: 
Full Name: Liza Uniza Cornella Diamond
Nickname: Uniza, Cornella
Daugther of the Unicorn

Edit
Season 2: 16/17
Season 3: 17/18
Gff's: Cupid and Spectra
Familly: Mindy is my sister and she is a witch! I hate my Sister, help me!
Favorite Colors: Pink and white
Pet: A pony, She is a pony and has a Horn. 
High school: I go to Ever After High and Monster High, a long story.
Liza's past
Edit
Liza is a evil Genie, at the begin of the episode The Two Tales of The Wishes!
At the end of the episode  see you that Liza a friendly unicorn is.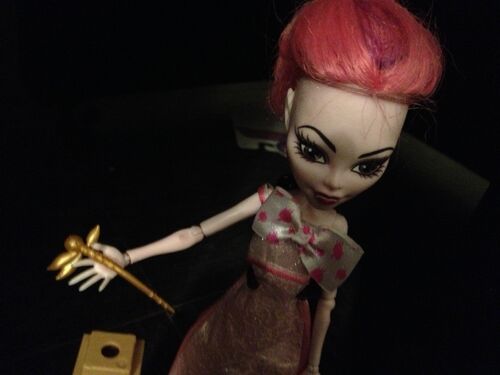 27 June 2013: MonsterHighToekomst makes a Fanmade for Liza Diamond!
15 July 2013: Liza's kid Lily see you in the episode The Genie Of Twyla!
12 August 2013: The episode of Liza's First Episode is Making!
10 September 2013: Liza makes her appearance in The Mystery in Scaris!
1 Febuary 2013: Liza have a new outfit in the episode L.C. Lucy Part 2